Girlfriend Rescue
Girlfriend Rescue is provided via Steam key. For key redemption, a free Steam account is required.
About This Game
Description

Girlfriend Rescue is a thrilling adventure by Aldorlea Games, where the gameplay of "Dragon Quest" meets the atmosphere of "Streets of Rage".
Innovative, mixing rogue-style RPG and Beat 'em Up atmosphere in a unique way, this game features a great deal of strategy through a mix of character selection and creative skills.


Plot

You have very little time to find where your girlfriend has been taken, and to defeat whoever did it.
It seems a tough and big task. But you want her.. death or success, what will it be?
Maybe YOU can decide on the outcome!
Features
Enthralling Adventure Set in a Modern World
50+ Achievements to Unlock
Stunning Artworks from the Team Behind Moonchild, The Book of Legends and Undefeated
Rename all your characters to yourself, your friends, your family - whoever you want, really
14 Bonus Items to Obtain Upon Completing Each World
Innovative and Strategic Battles
Original and Inventive Spells Unique to Each Character
Incredible Set of Items, Weapons and Equipment
Tons of Status Ailments to Enhance the Strategic Aspect
6 Modes of Difficulty (including Rogue, Maniac & Legendary, but also Easy)
Visible Encounters, Auto-Save & Optional Mouse Control
Great Replay Value with Tons of Possible Parties
Cast of 9 Characters to Choose from, Not Including 4 Unlockable "Secret" Ones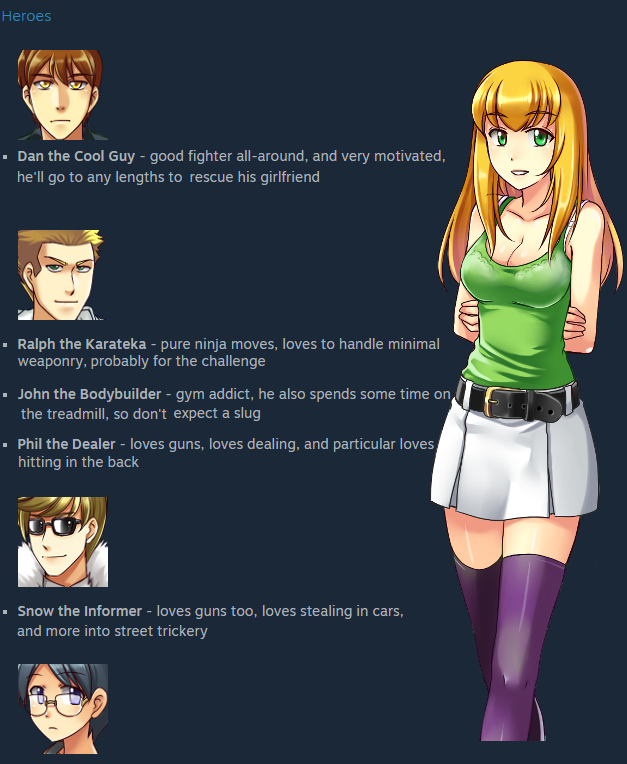 Martin the Cool Kid - for sure the fastest of the bunch, and has some wicked moves up in his sleeves, too
Lester the Cop - that dude will love to apply the law and command you guys, but he can pack a punch, too



Joy the Bombshell - a girl who loves to make sure others are alright, especially if they are young handsome males



Katia the Nerd - you wouldn't believe how many crazy, flat-out weird skills that girl has
Cookie the Bullfrog - that small(ish) dude has some many venoms and poisons you have to wonder if they didn't get it from Australia or the deep woods of the Amazon



And more!...
Hints and Recommendations
Pick Easy for a first play-through - you can attempt more difficult modes later on
Search everywhere - this is a game that rewards exploration
Try to kill all the enemies - your girlfriend (and the exp. points ^^) are worth it
Keep your party members healthy - don't let them starve or with a bad cold
Use stat-increasing items immediately - no need to store them for later
Plan out your strategies - check what kind of skills each member has
Best-selling Games by Aldorlea Available on Steam